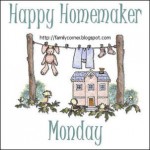 The weather in my neck of the woods:
Chilly
One of my simple pleasures:
making something handmade
On my bedside table:
A growing pile of craft books
On my TV:
My favorite shows, that I want to watch this week.

On the menu for tonight:
Chicken  Fricasse

On my To Do List:
Laundry
Dishes
Christmas crafting with the kiddos

New Recipe I tried last week:
Pumpkin Cookies

In the craft basket:
Christmas magnets for my fridge

Looking forward to:
Finishing decorating for Christmas and enjoying a cup of hot cocoa

Homemaking Tip for this week:
Pick up the mess after your done crafting, if not it grows like wild fire


On my Prayer List:
My husband and three boys
My family who live away from me in another state.  I miss them most during the holiday season


Please visit Sandra to see what other Happy Homemakers are up to. Have a great Monday!