It feels good to have won the kitchen battle today.  Here is a pic of my kitchen area all spic and span clean.  Won't last forever cause those darn dishes multiply like damn bunnies I tell you.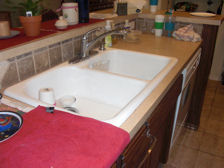 This is not a battle I win everyday, more than not the kitchen wins.
The other mission I had today was our laundry, oh dear it is a mile high almost.   I won't put pics of the before it is pretty embarrassing really.