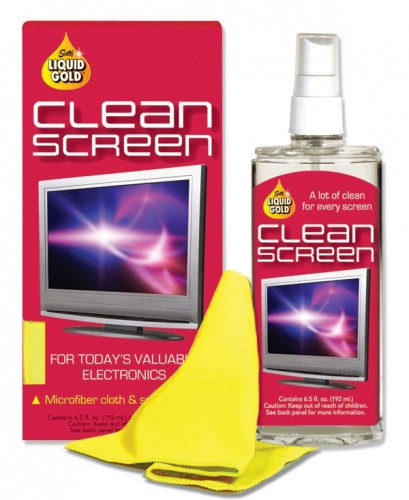 I was so glad to receive this product for review as my laptop screen is always getting dirty.  Sometimes I just clean it and right away it looks dirty again.  This product I have been using for a little over a week and I am very impressed.
It doesn't use a residue,  smudge or streak just a nice clean screen.  My son is often touching my screen as he plays his games with his little boy ruff and tuff grimy hands and he leaves so many prints and at time sticky stuff on my screen.  This product takes all this off with a few wipes, off the smudges go.
I also used it to clean the smudges and finger print from our flat screen television and it did an awesome job.  The screen remained clean for a few days before I had to use it again.   I never noticed before that the screens were so grimy, I think we just got used to it, but now we see the difference and wow it is pretty neat.
Well I kept on trying Clean Screen on more items in my home, the last one thus far has been my iphone, which gets dirty on a daily basis and I struggled to keep it clean.  Clean Screen has helped me get that under control and have a clear view on my phone when using my apps etc.
All in all this product gets 10 thumbs up from me.
For more information visit Clean Screen and Like them on Facebook if you get a chance.
Features and Uses:
Clean Screen is a highly effective two-part cleaning system. It includes a specially formulated RO solution
and a suede micro fiber cloth. Reverse Osmosis (RO) is a state-of-the-art water treatment technology that removes
molecules of mineral deposits and impurities smaller than the water molecules themselves. The synthetic suede
micro fiber cloth is soft, lint-free and won't scratch delicate screens.
• Has no tap water, ammonia or alcohol
• Won't deteriorate, discolor or harm delicate surfaces
• Leaves no residue
• Does not streak or smudge
• Leaves a crystal clear clean
Other Uses That I Have Not Tried Yet
Game Systems – My sons ds system is another screen I am planning on using this on.
Removes fingerprints and sticky grime on DVD/CD's – My 3 year old get plenty of grime on his DVD, will definitely try this
Cleans sunglasses and eyeglasses without damaging the scratch coat – We all wear glasses in our home so yet another great use.
Details:
Clean Screen is available in a 6.5 fluid oz. Ready-to-Use Spray.
It includes one suede micro fiber cloth. Suggested retail price is about $7
The product in my opinion is worth the every penny of the price, I plan on purchasing it after my review gift is used up.
I received one or more of the products mentioned above for free using Tomoson.com. Regardless, I only recommend products or services I use personally and believe will be good for my readers. I am disclosing this in accordance with the Federal Trade Commissions 16 CFR, Part 255 Guides Concerning the Use of Endorsements and Testimonials in Advertising. Tomoson Product review & giveaway Disclosure.