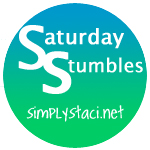 I slipped and fell this last Tuesday, so I have had lots of time on the internet to find some pretty neat stumbles.  So here I go what I stumbled this week.
1.  My Fridge Food My husband liked this one since it might save us a bit on our food budget.  Guess we will see if it helps us do just that.
2.  Peanut Butter S'mores Turnovers I think this are delish, I have to try these with my kids.  My little one is allergic to peanuts so I will try them with soy butter, which should work same.
3.  Cupcakes A-Z – Food seems to be following me this week, and these cupcakes are to die for.  I probably couldn't make most of them but now I have a terrible craving for them. haha
I will stop now because it's lunch time and now I am starving.
Have a great weekend and happy stumbling,  I love this it's so much fun.